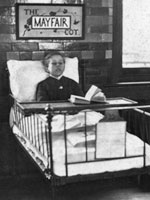 Edwin Bedwell: patient from 7 December to 16 December 1877
Edwin Bedwell was admitted to the Hospital for Sick Children on 7 December 1877 by Dr Bridges, age 11 years 6 months. He was suffering from asthma. Edwin only stayed a short time, and was pronounced recovered on his discharge on 16 December.  But he was there long enough to have this photograph taken in the Mayfair Cot, one of the cots sponsored by supporters of the Hospital. This one was sponsored by the children of Berkeley Chapel congregation.
Edwin can be traced in the 1871 census, age 5, living at 39 Wrotham St, Kentish Town. (His address on admission was 25 Rotham St Kentish Town). His father, John, was described as a Clerk to the Orphan Working School. His mother had no occupation, and he had one elder sister and a younger brother. His mother's brother, a Commerical Clerk, was living with them, and the family employed a domestic servant. From this evidence it seems that Edwin doesn't fall into the stereotypical image of a patient of the Hospital, who more normally came from a background of grinding poverty.  By 1881, the family had moved and were living at 25 Wrotham St. Edwin, now 15, was described as a scholar, another indication that his family was not poor; at 15 most working class boys would be expected to be working and contributing to the family finances. By now there were two more children in the family, making five in total. Edwin's father was described in 1881 as a Collector for the Orphan Working School.
In 1891, age 25, Edwin was still living at home and working as Clerk in a bank, but he was on the verge of a major life event. Sometime after the census was taken, in the late spring/early summer of that year, he married a local girl called Ellen, and soon after they had a daughter, Grace. By 1901, Edwin, Ellen and Grace were living in their own home in Upper Holloway and Edwin was working as a Bank Clerk. Can a hint of his future occupation be gleaned from the photograph, which shows a serious looking little boy, with a large book lying open on his bed tray?